NEW SCOTLAND — Albany County residents were generally welcoming of the state's proposed plan to improve and enhance John Boyd Thacher and Thompson's Lake state parks to meet modern recreational demands.
The New York State Office of Parks, Recreation and Historic Preservation on Thursday, Aug. 1, held a public hearing on its draft master plan and draft environmental impact statement for Thacher and Thompson's Lake state parks at New Scotland Town Hall. The master plan, which merges the two parks, includes the state parks' envisioned capital improvements and operational enhancements for the next 10 to 15 years. The exact timing of or possibility for proposed improvements isn't clearly defined because it hinges on several factors including availability of funds.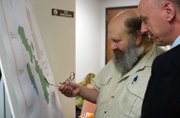 "All substantive comments must be taken into consideration by the agency in the preparation of the final master plan and final [environmental impact statement]," Karen Terbush, environmental analyst for State Parks, said. "Our job … is to listen and understand. … We are particularly interested in any comments on the accuracy of the information that is within the plan."
Salim Chishti, state park planner, provided a brief summary of the plan before hearing comments. The plan states all proposed improvements "cost tens of millions of dollars to implement."
The immediate priorities are expanding the Bird Conservation Area through both parks and creating a Natural Heritage Area that includes the Calcareous Cliff Community and land below the cliffs.
Capital infrastructure improvements are broken into three priority levels and operational enhancements have two priority levels.
Priority 1 improvements include demolishing and repurposing material from the barn on Ketcham Road; adding four comfort stations throughout the park; designing and installing the first phase of the Tory Cave Trail; viewshed restoration of Hailes Cave, Horseshoe and Indian Ladder trails; installing a bat gate at Hailes Cave; and several trail improvements, along with creating a mountain biking skills course.
(Continued on Next Page)
Prev Next
Vote on this Story by clicking on the Icon