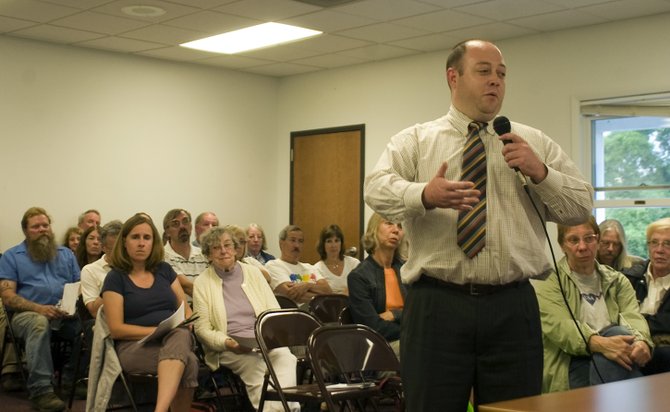 continued — Operational enhancements being eyed first include opening all park gates during the day to increase access to areas; planning and implementing rock climbing proposals; seeking proposals for a commercial adventure course; and upgrading lighting and mechanical systems to increase efficiencies.
A flagship first priority improvement is constructing a new visitors center at the park, which will feature meeting rooms and a warming hut for colder months.
"The visitors center will be that … so that when people come to the park they have a place to orientate themselves, to ask questions, to look at some of the exhibits about the geological history of the land," Chishti said.
Several people did express opposition to the expansion of the sandy area of Thompson's Lake beach, along with expanding the lake's campgrounds.
"I just wonder what kind impact this is going to have if we are dumping tens of thousands of pounds of sand onto a soft bottom lake," said Michael Railly, of Albany, who owns a camp at the lake. "Is this going to sink down into the mud, which is the argument given for why we can't put shale in?"
Thompson's Lake Improvement Association President George Christian expressed the desire for the state to increase awareness about the presence of zebra mussels in the lake. He said signs currently aren't specific enough relating to invasive species in the lake and what precautions should be taken.
Bob Addis, president of the Northeastern Cave Conservancy, said his organization was pleased to see the plans focus on developing caves. The group manages around 12 caves, and he offered its help with the park plan.
"We would certainly encourage that a cage management plan be written before very far along in this process," Addis said.
Jim MacNaughton, of Albany, said his son is "in love" with the park's nature center and he was "excited" to see a mountain bike skills area being developed.
The plan can be viewed and downloaded by visiting the state parks' website at nysparks.com/inside-our-agency/master-plans.aspx. The documents can also be viewed at the Voorheesville, Guilderland and Berne public libraries.
Vote on this Story by clicking on the Icon