IF YOU GO
• What: Double M Rodeo
• When: Fridays and Saturdays at 8 p.m. through Aug. 30
• Where: 678 Route 67, Ballston Spa
• How much: $15 for adults and $5 for kids ages 5-12
• More info: doublemwestern.com or 885-9543
July and August are not just about horses in Saratoga County. Step through the gates at the Double M Rodeo in Ballston Spa on any Friday or Saturday evening in July and August and you will feel like you stepped into the Wild West. Complete with angry bulls and rodeo clowns, the Double M is a piece of the West nestled in the woods of Ballston Spa.
Photo Gallery
A Rodeo Way of Life - Photo Gallery -Double M Rodeo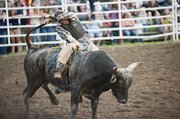 Double M Rodeo runs Friday and Saturday nights in July and August in Ballston Spa. These photos are all from July 26 and showcased bull riding, barrel racing, calf roping, bronco riding, trick riding and roping. The rodeo is a family event, not just for those who love rodeo.
Cindy Martin, who owns the rodeo with her husband, said it's common to see 1,200 people each weekend sitting in the stands hollering for their favorite competitors.
"It's good, clean fun, family oriented and a relaxed atmosphere," she said. "It's like a park out back so people come and hang out, little kids are running around and parents are watching."
The competitors come from as far away as Oklahoma to compete at the Double M.
The rodeo also has its share of local competitors.
"We have doctors and lawyers, professionals that work for New York state, corporate owners – all kinds of professionals," Martin said. "This is their extracurricular activity. In fact my son's pediatrician is a barrel racer."
The rodeo is host to a number of events, including barrel racing, bull riding, bareback riding and steer roping. The competitors are not paid performers. They compete for prize money.
Martin said the events can get very competitive – even between family members.
"Right now I have a grandfather and his granddaughter that rope together and a grandmother and granddaughter competing against each other in barrel racing," she said. "At the end of the night, you could go home and have two sisters battling it out as to who is going to win money because they compete in the same event."
(Continued on Next Page)
Prev Next
Vote on this Story by clicking on the Icon