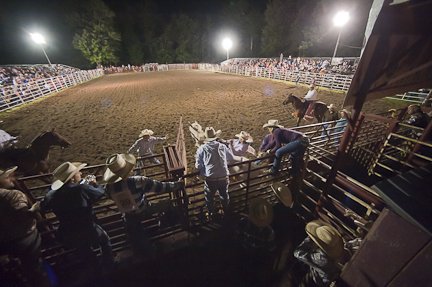 Martin said the bull riding event is by far a favorite with the crowd. Often you will see onlookers in suspense as the rider is jerked around while holding on for what he hopes to be eight seconds.
For the Martin Family, rodeo is just a way of life.
Martin's mother-in-law and father-in-law, Kathy and Ron Martin, brought the show to the Double M in 1987 after organizing rodeos in the 1970s at Lake Luzerne's Painted Pony Ranch.
Martin and her husband, Wayne, took over the rodeo and accompanying western store 18 years ago. The rodeo tradition is continuing through the generations with Martin's two children now a part of the show.
"We all have our own part in it. My husband is the pick-up man during the rodeo," Martin said. "That's when two bucking horses come through, he is the guy who comes in and saves the guy on the back of the bucking horse."
Martin's 14-year-old daughter, Jessica, carries the American flag horseback during the opening of the show and competes in the youth barrel racing competitions. Clayton, Martin's 8-year-old son, does a trick act with whips.
"It's a big 6-foot bull whip that he swings over his head and snaps it, which is hard to do for most," she said.
Martin said rodeo is basically a part of their family heritage – it's what they love and what they do.
"We've been doing it for so long that it's old nature. For us, we don't think much about it. It's all in our heads and we just do it," she said.
The Double M is located at 678 Route 67 in Ballston Spa. Catch a rodeo any Friday or Saturday evening through Aug. 30, at 8 p.m. General Admission is $15 for adults and $5 for kids ages 5-12. For an additional fee, go early and enjoy a barbecue by North Country Barbeque in Rotterdam at 6 p.m. Parking is free. For more information, visit doublemwestern.com or call 885-9543.
Vote on this Story by clicking on the Icon