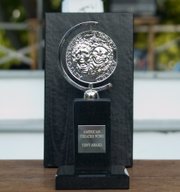 continued — Heitkamp has kept in touch with Rothenberg since he graduated from high school, along with other former students.
"I actually contacted him the night that he got the Tony and sent him a congratulatory message," he said.
Heitkamp estimated he taught around 8,000 students over his 30 years in education, and there were some, like Rothenberg, who stood out.
"He was very cooperative … whatever he was given to do, he did, and he did it very willing," Heitkamp said. "He was the kind of student that you kind of assume he is going to be successful."
Jim Corigliano, former music theory teacher at Guilderland High School, also said he saw something special in Rothenberg.
"Leon was an unusual student in that not only was he gifted and intelligent but somewhat precocious. He had lots of confidence and he wasn't afraid to take a chance," Corigliano said. "If you are going to compose music you can't be afraid to take chance, or you will never write anything."
Corigliano said many students that tried to write music often would never get started because they were afraid of it not sounding good. Corigliano said Rothenberg has a "flare" for writing music, and he always had a passion for theater.
"Leon had a good musical ear, a great imagination, and he had listened over the years, so he had a good musical vocabulary to build on of classical composers mostly," he said. "Leon wanted to write contemporary music from the get-go, and I sort of fought with him that music is a craft and you got to learn your craft. … I'm not so sure he liked that, but he understood that musical composition was a craft. By the time he headed off to college he was prepared to study that craft."
Vote on this Story by clicking on the Icon