ALBANY COUNTY — Lawmakers and local and statewide activists stood outside of the Albany County Courthouse last Tuesday voicing their concerns about keeping hydrofracking waste off the streets of Albany County.
The small group rallied shortly before a scheduled public hearing Tuesday, July 23, on proposed Local Law C, which, if passed, would ban the use of hydrofracking waste for de-icing on winter roads in Albany County. Legislator Bryan Clenahan, the law's primary sponsor, joined the activists to explain how hydrofracking waste can be extremely hazardous to the citizens of Albany County.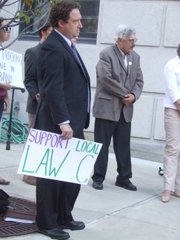 Clenahan said the law would also prohibit the treatment of fracking brine in the county's wastewater and sewage treatment facilities.
Currently, New York State is surrounded by several "hydrofracking states," like Pennsylvania, which carry hydrofracking waste into New York landfills, Clenahan said. Companies are looking to sell the brine, which includes radioactive materials, heavy metals and carcinogens, to be used for de-icing roadways or compressing dust at construction sites.
"This is incredibly worrisome and incredibly harmful. These toxins would come into direct contact with our citizens, roll into our ground, roll into our surface water," Clenahan said. "We feel it is incredibly important to protect our citizens from these harmful materials."
Misti Duvall, staff attorney at the Watershed Program with Riverkeeper, said at least nine counties in New York have passed legislation to prohibit the spreading of fracking waste on roads and wastewater treatment facilities. She said while she approves of these municipalities and Albany County's push for legislation, she hopes there will be a statewide ban enacted.
Ellen Weininger, Educational Outreach Coordinator for the Westchester-based Grassroots Environmental Education group, said even if hydrofracking was banned statewide in New York, it would still remain a "major public health crisis in this country."
"New York state imports fracking waste from Pennsylvania, and it allows that waste to be hauled in by trucks that could spill, leak or have accidents and bring it into local landfills that are not equipped to handle it," Weininger said.
(Continued on Next Page)
Prev Next
Vote on this Story by clicking on the Icon