GUILDERLAND — A look inside one old barn tucked among the hills near Guilderland's Tawasentha Park won't reveal the expected animal inhabitants, but there is still plenty of activity brimming beneath its roof.
The Guilderland Rock Adventure Barn, or GRAB, reopened to the public last month after closing its doors several years ago following waning interest. The historic 1800s barn, located on Route 146 across from Tawasentha Park, hasn't held farm livestock and supplies for many years. The red barn features more than 3,000 square feet of rock wall climbing surface and is suited for first-time to advanced climbers. All of the necessary gear is offered in-house.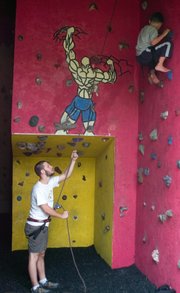 Public use of GRAB is limited to Friday from noon to 6 p.m. and Saturday from 11 a.m. to 5 p.m. until the end of August. The town started this trial period in July to gauge public interest. The cost is $5 per person, which includes necessary gear.
"We thought we would give it another try," town Parks and Recreation Director Dennis Moore said, who indicated the response has been moderate. "There weren't enough people using it — not enough customers to make it worthwhile."
Moore said the rock climbing is "challenging," "fun" and offers a different form of fitness. Along each wall are typically two routes, with one route being easier than the other. Some of the more strenuous climbs take you all the way up and onto the underbelly of the barn's roof.
Once someone learns how to properly climb and belay, which is protecting a climber from falling, they can participate without the help of trained town employees.
Moore said declining interest in the facility could have been from people not wanting to climb during hot summer days. The facility isn't heated, so it can't be used during the colder months. Active rock climbers will also be outside when the facility is usually open.
(Continued on Next Page)
Prev Next
Vote on this Story by clicking on the Icon