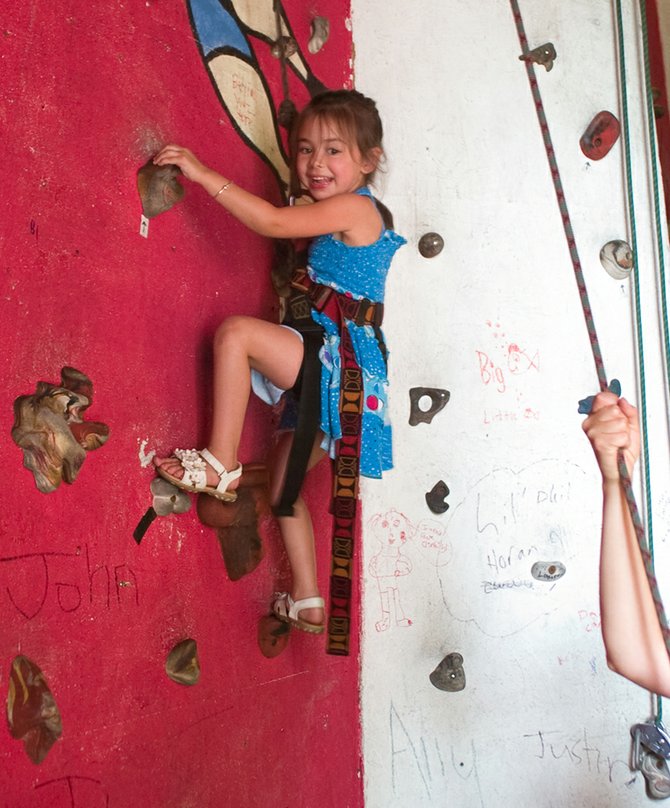 continued — "People who want to really rock climb, they will go outside now," he said. "They will climb on the real rock outdoors. They would use this to train on more."
Moore said the town "likes to break even" on its cost to keep the facility open to the public. He said it isn't seen as a way to make money.
Even though the facility hasn't been open to the public it was still being actively used through the town's youth summer camp.
"We use this as fitness for the kids," Moore said. "We have around 250 kids in camp that we bring over here every day. We bus them over from right across the street at Tawasentha, and they come and climb as one of their activities."
Stepping into the facility you'll notice the spongy floor, which is made from the rubber of ground up tires and has been in the barn since it opened. One of the workers will likely greet you if they aren't already belaying someone and can teach you climbing basics.
Taylor Treadgold, an Altamont resident and University at Albany senior, was running the facility on Friday, Aug. 2. Treadgold became interested in rock climbing as a college freshman through a weeklong outdoor exploration program.
"I went and I did the trip, and I pretty much got hooked on climbing from there," Treadgold said. "Since then I have been climbing three or four times a week."
Treadgold said he enjoyed climbing because of the sense of adventure it offered along with the "sports sense" of it.
"It's nice because it has the dichotomy between an activity and a sport, so you can be really serious about it but you can also just go in and have a good time," he said. "It is kind of for the love of it as opposed to for sport or anything else."
Vote on this Story by clicking on the Icon