COLONIE — As an enthusiast of 19th century obscure literature, Kit Goldstein Grant stumbled across a goldmine when she found a rare novel by Robert Louis Stevenson in her childhood home.
Goldstein Grant, who was beginning to get a knack for composing musicals, read the novel and immediately began writing songs and a script based on the story. She saw the characters coming to life and wanted to see them come across the stage.
Now, almost a decade later, her wishes are taking shape as she gears up to release the musical theater album for "The Wrong Box," with a CD release party this Saturday, Aug. 17, at Professor Java's in Colonie.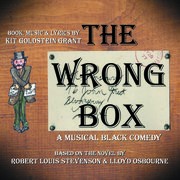 However, the celebration of the album's completion comes after almost 11 years of writing, composing, recording, editing, rewriting and rerecording. Goldstein Grant, who began writing musicals in her Niskayuna home at the age of 14, went to Union College to major in her creation of a cultural musical theater degree - a combination of studying musicals, English, history and theater. During her sophomore year at school, she began writing the script and music on piano for "The Wrong Box," which was performed at the college. Yet after working on more than a dozen other musicals, studying orchestration at Julliard for a year and working for local companies like the Schenectady Theater for Children, Inc., the play wasn't really touched after college.
Goldstein Grant decided to pick the story back up when people came to her interested in performing the show. Unfortunately, she had a problem. She needed a demo. So, almost two years ago, she began planning out production and costs, starting an Indiegogo account to raise money. Finally, after recording 24 tracks with 11 singers at three local studios, the album is ready to be heard by the public and theater companies.
(Continued on Next Page)
Prev Next
Vote on this Story by clicking on the Icon