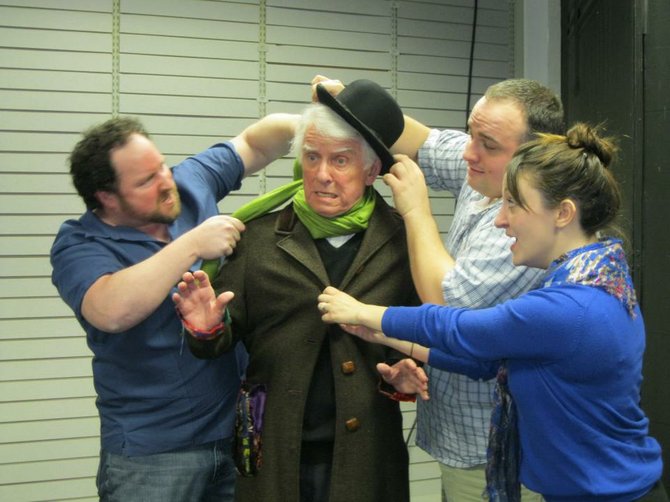 continued — "I'm relieved. It's been a massive project," Goldstein Grant said. "I love the characters in this and I love the story. I'd like to get it out there. I think it's something people will like."
While a British version of the novel came out in 1966, Goldstein Grant said her musical sticks more closely to the original 1889 story. The story, co-written by Stevenson and his stepson Lloyd Osbourne at Saranac Lake in the Adirondacks, centers around two branches of a family competing to win a tontine, or a financial arrangement in which a group of investors put money into a fund and the last living investor collects all of the money. When the story starts, there are only two brothers left in the tontine. Both are elderly and couldn't care less about collecting the money, yet their heirs do, and will do anything to win. The plot gets even crazier when one of the brothers is believed to have died in a train wreck, and the heirs try to conceal his apparent corpse to keep the tontine intact.
"It's not a dark show, but there's some dead body humor. It's a white/black comedy," Goldstein Grant said. "Everyone in this show is a terrible person, but you love them anyhow."
After composing all of the music on piano, Goldstein Grant handed her work over to Barret Germain, a Schenectady-based tuba player and musical director at the Trinity Presbyterian Church in Scotia. Germain became the album's musical director and orchestrator, overseeing the execution of the music and recordings and adapting Goldstein Grant's piano parts into a 13-piece orchestra.
"I would call it an exciting challenge," Germain said. "It was definitely a challenge to take a piano score and expand it and still fit into Kit's idea of what she wanted the musical to be ... pretty much Victorian England style, and make that work with the instruments we used."
Vote on this Story by clicking on the Icon