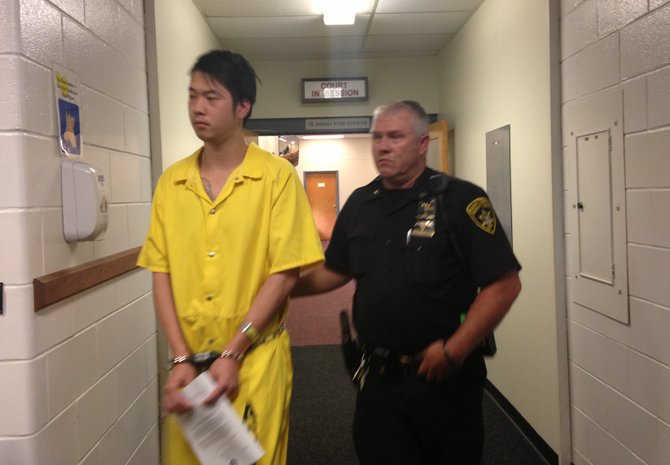 continued — Bethlehem police obtained a warrant to look for evidence at the restaurant after speaking with other local law officials over several weeks about other complaints from residents in neighboring towns.
According to court documents, Hornick asked Li last Monday where he obtained the skimmer device from.
"A lady in city," Li replied.
The detective then asked how many people's information was stolen. Li said "lots."
Hornick also asked if the number was around 10 to 20 people. Li said "No, more like 50 to 100 or more." Hornick asked if that information was on the device at the time of Li's arrest, and Li replied "yes."
Hornick said the device seized has the capability to store the information for about 500 to 1,000 people. Authorities are now attempting to get a search warrant for the device.
The information was being used to make small purchases at Golden Town Buffet and large purchases, such as gift cards, from other establishments, according to police.
Li was charged with felony counts of criminal possession of a forged instrument in the second degree and scheming to defraud in the first degree, and misdemeanor counts of unlawful possession of a skimmer device and unlawful possession of personal identification information in the third degree. He was also charged with having an outstanding federal warrant for deportation.
Li appeared in Bethlehem Town Court on Thursday, Aug. 8. Using a public defender, he waived his right to a preliminary hearing and was sent back to Albany County jail without bail. He can now apply at the county level to receive bail, but was deemed a flight risk by Town Justice Ryan Donovan.
Police are asking anyone who went to the eatery between June 15 and Aug. 5 and paid by credit or debit card to check their bank statements and immediately report any fraudulent transactions.
Bethlehem police were assisted in the investigation by the Albany police, Colonie police, New York State Police in New Scotland and Clifton Park, East Greenbush police, U.S. Secret Service and the Department of Homeland Security.
Police said the investigation is still active and more information will be released as soon as it becomes available. Further charges may be pending.
Reporter John Purcell contributed to this story.
Vote on this Story by clicking on the Icon