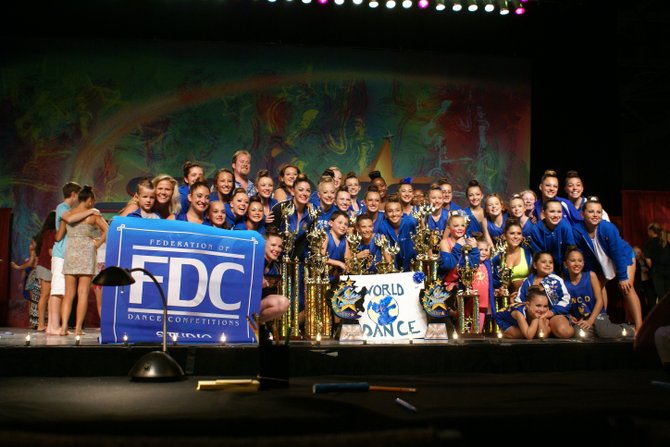 continued — The entire Bell family headed down to Virginia Beach for the StarQuest competition, sitting in the audience and watching their daughter perform. Her team placed in the top 5 for small groups for five of the last seven years they've competed together.
"Pretty much every dance Jolie was in placed in the top 10, and that's really a testament to how good the studio is," Bell said. "That's how good Barb and Danielle are."
While the World of Dance continues to win competition after competition, the dance team offers a unique approach to forming its team: no auditions are required.
"I don't believe in auditioning. I set up my team for the needs of everyone," Cuzdey said. "I will make 15 teams if I have to for different levels so (everyone) can be a part of it. I think if you let kids know they can do and achieve anything they want, they're going to achieve it. It's something my mom has instilled in me. You set goals, and you say you can do it and you will. Everybody has something to offer."
For the studio itself, Cuzdey also offers one free class for a full year for boys. With this free option, Cuzdey said it's easier for boys to join the studio, straying away from thinking dance is a "girls' sport." Since starting this method four years ago, Cuzdey has had several boys take classes. Last year, she was able to have an all-boys hip hop and tap team at the StarQuest competition. And, some of her boy students have gone onto Broadway, including dancer Jacob Clemente, who played the lead role in "Billy Elliot."
A smiling Cuzdey said she couldn't be prouder of her team.
"I never say, 'Let's go out there and win.' I say, 'You've done your best, now whatever happens, happens. Know we are going against strong competition and you can never expect anything. You just work as hard as you can and that's all you can do,'" Cuzdey said. "When they won, they were floored."
Vote on this Story by clicking on the Icon