COLONIE — A Schenectady man was sentenced to 10 years in State Prison after robbing a motel in Colonie this February, District Attorney P. David Soares announced Tuesday.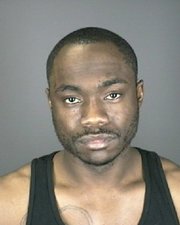 At approximately 11:30 p.m. on Feb. 12, David Taylor, 37, and an unidentified individual entered the Best Western Motel on Wolf Road and directed two employees to get down on the floor. One of the employees was grabbed by the neck and thrown to the floor, police said. Taylor then took the cash from the registers at the front desk and directed the employees to count to 100 before he fled.
An investigation by the Colonie Police Department revealed that Taylor was a former employee of the hotel and had been previously fired by management.
Taylor pleaded guilty to one count of robbery in the second degree on July 9. He was sentenced to 10 years in State Prison, followed by five years of post-release supervision, before the Honorable Thomas Breslin in the Supreme Court of Albany County.
Soares said anyone with information regarding the unidentified individual also involved in the case should contact his office at 487-5460.
Vote on this Story by clicking on the Icon