ALTAMONT — Every year, the Altamont Fair draws thousands of people with its flashier facets, from the newest rides to a destructive demolition derby. But for a slew of volunteers, the main attraction is one that flings you back in time.
Stretching along the back portion of the fairgrounds are several museums featuring a look into agricultural history and a building dedicated to classic cars. Several volunteers maintain these showcases of another time, both static displays and those in The Antique Farm Machinery Museum, with its fully operational equipment powered by hand and horse.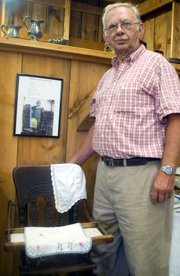 On a rainy Friday, Aug. 9, the fairgrounds were largely vacant and only a few carnival rides sat, awaiting visitors. The museums were just starting to bustle as volunteers prepared exhibits and strategized how to best feature a bevy of items likely foreign to many of the fair's younger attendees.
Pat Canaday, an Altamont Fair board member, said the nonprofit groups behind the fair — the Albany, Schenectady and Greene County Agricultural and Historical Societies — have many of their own items received through donations, but other area historical societies are offered space to display.
"By offering some space to other people, we give them the opportunity to share the collections they may not be able to show as often in their own space," Canaday said. "It is a different audience. The people that come to the Altamont Fair are different people than would go to the Berne, Clarksville or Schenectady (historical societies), so it gives everybody a chance to share the audience."
Canaday said along with adding some "valuable new information" to the Farm House Museum, the partnerships also result in some new friendships.
"Being able to share how we evolved as a society and as a culture … is an eye opener when people stop to think how they planted corn or how they harvested corn," Canaday said.
(Continued on Next Page)
Prev Next
Vote on this Story by clicking on the Icon