continued — There are various pieces of farm machinery and equipment showing how food was produced — from the simple corn seed planter to a monstrous rye rubber used to process grains.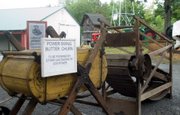 "It is the little things like that you don't even think about, but when you do think about it and realize the whole produce involved … it all makes sense," he said. "You can understand the progression once you see what things used to be like."
There are even some personal items from Tinning's family featured in the Farm House Museum.
His mother's high chair that converted into a stroller is inside the museum, with a picture of her in the chair featured behind it. She passed away seven years ago at 96 years old, he said.
"That is a picture of my mom standing in it at 3 years old," he said. "I bring it every year to the fair and then I bring it back home again."
Many people also come to the fair and visit museums to see items their family has donated, which belonged to their deceased relatives.
"Grandkids from around here will come in to see their grandpa's car," Rick Miller said. "That is what happens. A lot of stuff that is donated to the fair the parents, grandparents ain't here no more. The kids come and look."
Miller, of Altamont, sat inside the Cars: Past, Present and Future museum amidst relics from past racers. He said once someone donates an item it's important to preserve it, along with making sure it's displayed.
"I'm sure that happens in a lot of the other museums around here," Miller said.
Canaday said it is "really hard" to change anything in the museums, because people want to see certain items annually, but she also wants to add new items to keep other visitors interested in exhibits.
Vote on this Story by clicking on the Icon