For most reporters on deadline, it can be a race against the clock, but at a recent media preview at Fastrax Raceway in Crossgates Commons, it was a race against, well, other reporters.
Fastrax Raceway features go-karts that go beyond traditional speeds associated with open-air racing machines, and the media was invited to see just how fast that meant on Tuesday, Aug. 6. The new indoor facility features a 1/3-mile track with twists and turns and electric-powered vehicles that can travel up to 50 mph. Up to 10 people can race at the same time, and results are displayed live on a big screen hanging from the middle of the raceway. Spectators also have plenty of room to watch friends and family behind the wheel.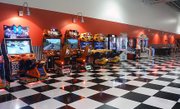 So what can you expect the first time you get behind the wheel, other than a massive adrenaline rush?
First-time racers register at a computer kiosk, which allows the raceway to get a name and email address, along with the participant's racing name. You'll also be asked to sign a wavier at this time. After that is a brief orientation, which largely focuses on understanding the five flags you might see being waved during the race.
You'll likely see the blue flag with a diagonal orange strip most often. That means a faster driver is trying to pass a slower one. It'll be pretty obvious during the race which person you are in that scenario. The slower driver is supposed to move to the outside so the other driver can pass on the inside.
Racers will need to wear closed-toe shoes and the raceway supplies a helmet and a "head sock" to go underneath it. The go-kart also has a three-point harness keeping you firmly in place.
Those of you with glasses could have a tough time getting them on with the helmets. Here's a tip: Take off your glasses while putting the tight-fitting helmet on, and then try to squeeze them on through the face opening afterwards. I found this moderately painful, but not unmanageable or a deal-breaker by any means. Getting a helmet the next size up, say from "L" to "XL," also helps, and it still fits firmly. If you have contacts, though, you should probably just wear them to the track and avoid this altogether.
(Continued on Next Page)
Prev Next
Vote on this Story by clicking on the Icon