Once you put the shield down on your helmet, the sound is muffled and your hands will begin to tighten on the steering wheel as you roll out onto the raceway.
At first, you'll go very slowly until all the drivers are paced onto the course by an employee, for a smooth start to the race. Your vehicle will all of a sudden start to go faster, but you are still short of being able to go full throttle.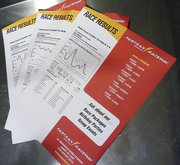 Because the go-karts are electric, staffers are actually able to control the cars remotely, and they are the ones that notch up your speed. Once you complete your final lap, the vehicle will automatically slow down to its initial slow pace as you make your way around the track again to pull off and line up the karts.
Racetrack staffers are also able to monitor a racer's experience level through their account. The more races someone has under the belt, the faster their car is allowed to go each visit.
Your first time around the track, you will likely hold back a little because getting acclimated with the kart and the track does take at least one full 12-lap race. The people at the media event were cautious in their approach, taking turns slower and pushing the limits of their karts less.
For me, the second time around brought an increased comfort level, and I was able to let loose a little more. There are a couple of tight U-turns where you must slow down, and figuring out how fast you can take those turns requires practice.
For those who have played racing video games, Fastrax essentially feels like you are stepping into one of those games. That first-hand experience is every bit a thrill ride as your hands grip the steering wheel and you feel the wheels spinning underneath you.
Vote on this Story by clicking on the Icon