The straightaway portions, while limited, are also great fun as you rev up the kart's electric engine, and although you are driving rather fast the kart still feels secure and grounded. Not once did I feel like the kart was going to roll over during a turn at high speeds or lose control.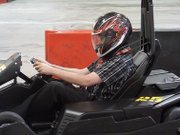 The cost for a 14-lap adult racer is $23, but you can also purchase a Fastpass membership for $50. Purchasing a membership includes two free races that can be redeemed at any time, one free race during the month of your birthday and a Fastrax Raceway T-shirt. Members also pay a reduced price of $18 for a 14-lap race.
There are also 10-lap junior racer admissions available for the same price, along with the same membership reduced pricing and perks. The junior racer karts are slower and only reach a max speed of 25 mph.
A junior racer must be at least 50 inches tall and an adult racer must be at least 58 inches tall. If you have your own Department of Transportation certified helmet you may bring it to use.
If you are planning to come with a group of eight or more people it is advised to call or visit the raceway ahead of time to accommodate everyone to race together. Fastrax Raceway can be reached at 869-3278 and is located in Crossgates Commons at 161 Washington Ave. Ext. in Albany.
You can also visit its website for information, along with details on party, corporate or fundraising events, at fastraxraceways.com.
Vote on this Story by clicking on the Icon