BETHLEHEM — The successor to the prince of planning has been named.
On Wednesday, Aug. 14, the Bethlehem Town Board unanimously voted to appoint former Deputy Planner Rob Leslie to the position of planning director. He is taking the place of former Director of Economic Development and Planning Mike Morelli.
Morelli spoke to the board on Leslie's behalf at the meeting. He said over the past several years, Leslie has been professional, hardworking and committed.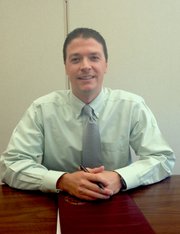 "I'd like to go on record supporting this promotion," he said. "I think it's not only a good opportunity for the board, but a wise opportunity by the board."
Clarkson said despite the receipt of 30 resumes and after eight interviews, "no one had the qualities of a broad skill set and background of the town."
"Rob Leslie is the type of employee we would all like to have," said Clarkson. "He was universally admired."
Leslie has been working for the town for seven years. He is working solely as the town's director of planning, with the hope that the town and the Bethlehem Industrial Development Agency will partner to hire an employee to focus just on economic development. The town is now also seeking applications for senior planner.
The new planning director's goals are to continue to implement the town's Comprehensive Plan, especially in upcoming projects like the Wemple Corners development, along with making improvements to the town's waterfront.
Leslie also wants to move forward with the town's Delaware Avenue Hamlet Enhancement Study to make the road more attractive and easier for cyclists and pedestrians to travel.
At Wednesday's meeting, Leslie asked that the town apply for grant funding through the state Department of Transportation's Transportation Enhancement Program to initiate the recommendations made in the Delaware Avenue Study. The town has also applied to the New York State Energy Research and Development Authority's Cleaner, Greener Community Program.
(Continued on Next Page)
Prev Next
Vote on this Story by clicking on the Icon