BETHLEHEM — The marquee of a favorite local landmark may go dark next year if money isn't found to make a technological leap.
According to Mike and Lisa Chenette, owners of Jericho Drive-In and Twist Ice Cream Shoppe in Glenmont, drive-ins and independent movie theaters are being forced to upgrade to digital projection machines as the movie industry begins to phase out the use of 35mm film. The digital projectors are expensive, about $70,000 to $100,000, and many believe it will be nearly impossible to find movies distributed on film as soon as next year.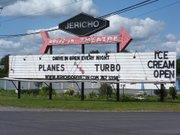 "It's a very expensive conversion … like a house. I don't know that we would ever make that kind of money back," said Lisa Chenette.
The drive-in has been a Glenmont institution since it first opened in 1957. In 1995, it was purchased by Mike Chenette, who had saved up for years in order to own his own business.
"I'd been going to the drive-in since I was a little kid, so when the opportunity arose it seemed like a dream job for me," said Mike Chenette. "Just a lot of fun."
The couple added the ice cream stand in 2007 and the next year purchased a brand new 40-by-90-foot screen. Lisa Chenette said they are still in the process of paying back both investments.
"This is not good timing for us," said Mike Chenette of the digital conversion.
Many of the country's larger multiplexes updated their projectors years ago, but now the burden is falling on smaller, locally operated theaters. Lisa Chenette said they've known the change was coming for several years, but there was never a definite timeframe for the switch. Now, the industry is pressing the point and no longer wants to release movies on film as a cost-cutting measure.
Because of this hardship, Honda Motor Company is sponsoring a competition called Project Drive-In, which is meant to "raise community awareness" about the issue across the nation. It will also give new digital projectors to the five drive-ins in the country that get the most votes either online or through text message. The Chenettes hope the contest could be Jericho's salvation.
(Continued on Next Page)
Prev Next
Vote on this Story by clicking on the Icon