continued — "Cars and drive-in theaters go hand-in-hand, and it's our mission to save this decades-old slice of Americana that holds such nostalgia for so many of us," said Alicia Jones, Honda's American manager of Honda & Acura social marketing, in a statement.
Mike Chenette heard about the contest from a coworker at his day job last Monday. Lisa then spent the next two days attempting to contact Honda in order to become an official contestant.
"It was like a second chance for us," said Mike Chenette.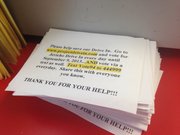 The couple and their employees are now working to spread the word about their involvement in the contest. The Jericho Drive-In website is advertising the competition, and each person who buys ice cream, a snack or movie ticket will receive a small flyer instructing them how to vote.
Voting began on Aug. 9 and will end on Sept. 9. A person can vote twice a day, once online and once by text message. Those voting are being encourages spread the word about the competition through social media. The winners will be announced in September.
As part of Project Drive-In, those voting can also donate funds through Honda's website. That money will then be divided between all the drive-ins that participated in the competition that didn't win a projector.
Lisa Chenette said she is grateful for Honda's contest, and is unsure what the couple will do if Jericho does not win.
"I don't know how I feel about asking people for money to keep us in business," she said about the possibility of a fundraiser. "People have asked and said they want to help, but it's nobody's fault that we are converting to digital except the movie industry."
The Chenettes said they plan to wait to make a decision on Jericho's future after they learn the outcome of the competition. Lisa Chenette said for their drive-in to win, it's important for members of the community to remember to vote every day until the competition ends.
"If we do win, everyone will know," said Mike Chenette. "We're going to throw a big bash."
To vote for Jericho Drive-In in Honda's Project Drive-In competition, visit projectdrivein.com/#vote_94 or text Vote94 to 444999.
Vote on this Story by clicking on the Icon