BETHLEHEM — The Bethlehem Police Department is investigating a bank robbery that took place at the Trusctco Bank in Slingerlands this morning.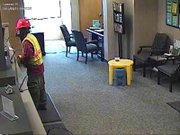 Police said a white male entered the Trustco Bank at 1569 New Scotland Road about 9:15 a.m. The man allegedly displayed a black handgun and requested money. Officials did not say how much money was taken.
Police are describing the suspect as wearing a long sleeve red flannel shirt, green colored "docker style cargo pants, a yellow and orange reflective safety vest" and an orange construction hat.
Police said the subject fled westbound towards Font Grove Road, and may have entered a vehicle that was parked roadside on Font Grove Road.

Detective Sergeant Adam Hornick said the man cut through back yards to make his way to the vehicle. Detectives are looking to speak with anyone who may have seen someone matching the subject's description or a nearby parked car in the area of the bank or Font Grove Road between 9 a.m. and 9:20 a.m.
Hornick said police don't believe the robbery has any connection to a 2011 robbery of TD Bank in Delmar, but they do believe it may be related to another heist.
"We believe it's related to ones in an adjacent county earlier this year, and we're working with the State Police," Hornick said. "There's a lot of commonalities in the style of dress."
Anyone with information is asked to call Bethlehem Police Detectives at 518-439-9973.
Vote on this Story by clicking on the Icon