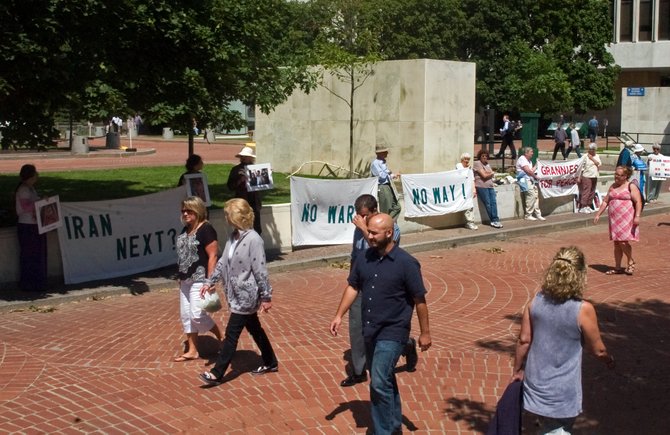 continued — Dot Richards, of Colonie, said while Obama and national leaders have important domestic issues to tackle, such as improving the economy, more resources should go towards Iranian diplomacy.
Richards, a member of Grannies for Peace, said if the Obama administration brought more attention to issues in Iran, people would be more informed. She said "the grannies" are focused on how war affects children.
"Our hearts are broken by the children that are affected all over the world by our stupidity in not using diplomacy and discussion and letting things get out of hand so that we are forced to use violence," Richards said. "This is not a lesson we want to give our children. It is our actions that teach – not our words."
Richards said Wednesday's demonstration was helped by nice weather. A majority of people at the event gave only a glance at the signs or appeared not to notice the group, but occasionally someone would come up to the group and simply say, "Thank you."
"A number of people come by and clapped and said, 'Right on,' or, 'I'm with you,'" Easter said.
Marcia Hopple, who organized the event, said she printed out around 1,000 flyers and gave the majority of them away. Hopple, of Poestenkill, admitted not everyone welcomed the demonstration.
"We had a lot of people avoid us, too," Hopple said. "It's OK, you understand that is not why they are here. They don't want to be interrupted having their day out in the sun and their lunch."
The group demonstrated for an hour during the event from noon to 1 p.m., and was situated at the opposite end of the concourse from the stage. The demonstrators stood quietly as some members passed out the half-page leaflet throughout area.
Lynn said the group has been holding a demonstration at the annual event since 2007 because it was a good way to connect with new people.
"We always give away several hundred leaflets to people that would otherwise not ever hear our message," Lynn said.
Lana Cable, of Saratoga Springs and University at Albany professor, said she is "deeply committed" to Iran, and American policy has so far been "wrong-headed and destructive."
Cable said it wasn't her first rally and stressed the importance of people holding political protests.
"I grew up knowing that it mattered to take a public stand on political issues that matter to you," Cable said. "That's just the way I was raised."
Vote on this Story by clicking on the Icon