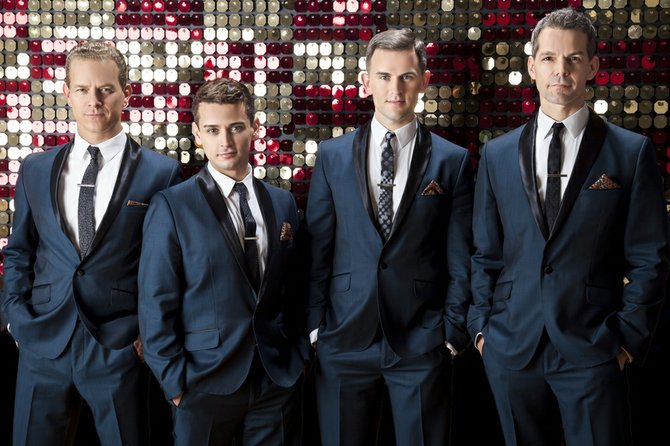 continued — "It is a couple nice things we wanted to throw in," Brown said. "Whether you buy the package or the single tickets, I think all three shows are strong. They have gotten great reviews before."
"Midtown Men" reunites four stars from the original Broadway cast of "Jersey Boys," Tony award winning Christian Hoff, Michael Longoria, Daniel Reichard and Tony award nominee J. Robert Spencer. The show is a "one-of-a-kind concert experience" celebrating music that defined the '60s.
"American Idiot" is based on the pop-punk band Green Day's album of the same name. The musical tells the story of three lifelong friends that are forced to choose between their dreams and the safety of suburbia.
"Million Dollar Quartet" is a Tony award winning Broadway musical that is inspired by the true story of the famed recording session in which Sam Phillips, known as the "Father of rock n' roll," brought together Elvis Presley, Johnny Cash, Jerry Lee Lewis and Carl Perkins.
Brown said the theater's goal is to continue drawing people to downtown Albany to spur its growth and help surrounding businesses.
"This region is lucky to have a venue like this that so much love and resources went into renovating the inside of the theater," she said. "It is just a spectacular place that a lot of people have called home for a long time."
Packages can be purchased by calling 465-4663, or by visiting the Palace Theatre Box Office, which is located at 19 Clinton Ave. in Albany. The box office is open Monday through Friday from 10 a.m. to 5 p.m. After Labor Day, it's also open on Saturdays from 10 a.m. to 2 p.m.
Broadway Series packages became available for purchase on Monday, Aug. 12, and single tickets for "Midtown Men" will be available starting Monday, Aug. 26, at 10 a.m.
For the Palace Theatre's event calendar and other information, visit PalaceAlbany.com.
Vote on this Story by clicking on the Icon