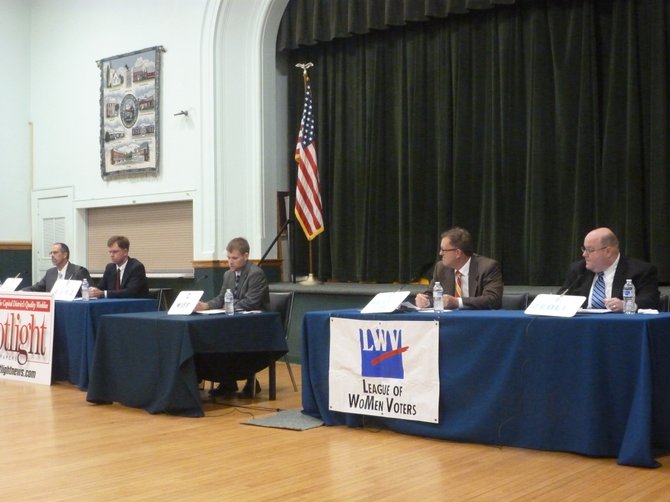 BETHLEHEM — All four candidates vying for the position of highway superintendent in the Town of Bethlehem believe it would be inappropriate to make budget cuts to the department at its current staffing level.
The candidates met at a forum held at Bethlehem Town Hall on the night of Thursday, Aug. 22. The event was sponsored by Spotlight News, the Albany County League of Women Voters and the Capital Area Council of Churches.
Both the Bethlehem Democratic Committee and the Albany County Independence Party have endorsed Democrat and City of Albany Director of Recycling Frank Zeoli. Resident Brent Meredith, an engineer, will primary Zeoli on the Democratic line. Bethlehem Republicans and county Conservatives have endorsed the town's Coordinator of the Development Planning Committee Terry Ritz. Howard Hyer, the director of administrative services and fleet manager in the town's Highway Department, will primary Ritz on the Republican line. In addition, members of the Independence Party will choose between Ritz and Zeoli on primary day.
"Essentially, when you look at the Highway Department budget, out of a $6.6 million budget, $4.6 million goes to personnel," said Meredith. "So really the only way to deep cuts in the department is to lose people, and at this point where the department is, we can't afford to lose any more people."
Hyer and Zeoli echoed those sentiments, while Ritz said he would not commit to cuts until an analysis was done to see if efficiencies could be found.

The superintendent position has been vacant since former Superintendent of Highways Gregg Sagendorph retired in April. The Bethlehem Town Board appointed Public Works Commissioner Erik Deyoe to act as interim highway superintendent until January.
This followed a referendum vote put forth by town officials that would have abolished the office of highway superintendent as an elected position, clearing the way for a civil servant to be hired to help manage the Highway Department under the public works umbrella. That referendum failed 3,086 votes to 1,969.
(Continued on Next Page)
Prev Next
Vote on this Story by clicking on the Icon