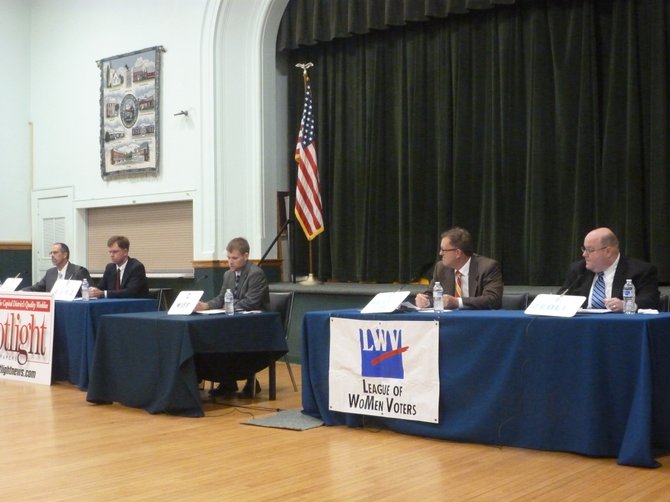 continued — Members of the audience provided questions for the candidates, who were not asked how they felt about the referendum's outcome, but many of the questions revolved around how the new boss would treat his employees. One question dealt with morale, while another asked about a four-day, 10-hour workweek.
Most of the candidates said they would be willing to look into making schedule changes, as long as they didn't conflict with getting work done on time. Hyer said he wasn't sure if four-day proposal would be favored by residents.
Others also said they were aware of issues with vacation time.
"For those of you who don't know, the Highway Department schedules your vacation period for you," said Ritz. "Those weeks might not line up with school or family vacations, so I would eliminate that policy that required vacations and institute a normal policy that would allow you to pick and choose your days."
Zeoli said a good manager should be able to balance staffing to allow for vacations, while Hyer said he and Deyoe are working with the town's Human Resources Department in an attempt to find compromise.
All of the candidates agreed that the town should not bond for paving, and work toward getting those costs within the department's budget. Zeoli, however, said sometimes borrowing may be needed to fix an underlying issue to preserve the town's roads.
Candidates also agreed it was important to work hand-in-hand with town officials towards common goals.
"The citizens have to come first. Regardless of what party you come from or who you were endorsed by, at the end of the day we're all Bethlehem citizens," said Zeoli. "We all care about the town, and we need to keep that in mind while we're interacting."
Ritz said he would like to evaluate the department's equipment to see what could be shared with other departments, and also suggested sending highway staff out to do projects in small teams to be more efficient.
Vote on this Story by clicking on the Icon