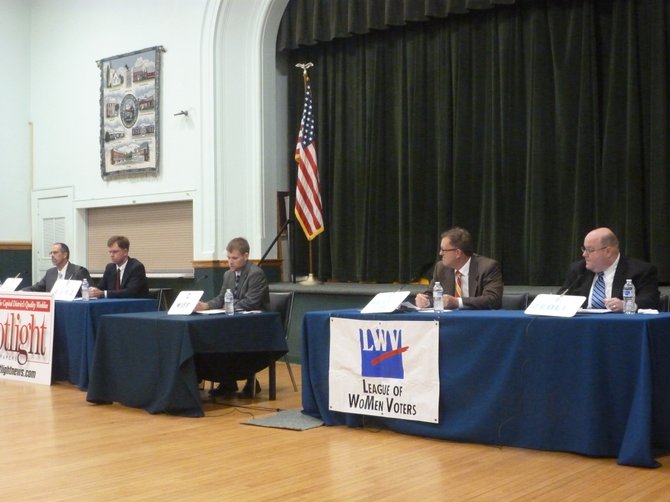 continued — Zeoli said it would be his goal to restore hours at the town's compost center, and possibly find a way to open it unstaffed through an honor system. He felt the facility has the potential to "be a money-maker" if it was given more attention. Meredith shared similar views, and said he would seek out state and federal grants to help fund programs.
Hyer said he would like to see the department advance its use of technology. He said he helped to develop a pavement assessment program for the town, which is now in use.
"The superintendent's main function is really to balance the demand of the public, within the limits of his budget and the capacity of his employees," said Hyer. "And it truly is a balancing act to get that all done equal."
Bethlehem Town Justice candidates were also each given five minutes to speak before the forum began.
In September's primary, Democrats will have the option to choose between Matthew Kelly and Andrew Kirby, while Conservatives will have the choice of Kelly or Dale Desnoyers. All three candidates will appear on the ballot for those registered Independent.
Desnoyers is a founding member and partner at Allen & Desnoyers in Albany and has 25 years of experience practicing law. He was formerly the director of the Division of Environmental Remediation for the New York State Department of Environmental Conservation. He lives in Glenmont with his wife, with who he has five grown boys.
Kirby has served as the Bethlehem town prosecutor since 2004. He is also a partner at Conway & Kirby, LLP. He lives in Delmar with his wife, Amy Conway, and their three children.
Kelly works at Roemer, Wallace, Gold and Mineaux in Albany. He is also past president of the Albany County Bar Association.
BCN-TV will be broadcasting the forum until the primary. Tune in to see the two-hour program on Aug. 29 at 1 p.m. and 9:30 p.m.; Sept. 3 at 5 p.m.; Sept. 5 at 1 p.m. and 9:30 p.m.; Sept. 7 at 5 p.m.; Sept. 8 at 10 a.m. and 9:30 p.m.; and Sept. 9 at 6 a.m., 11 a.m. and 9 p.m.
The primary is Sept. 10.
Vote on this Story by clicking on the Icon