RAVENA — Coeymans police arrested a Troy man on Sunday, Aug. 25, on charges he struck a woman in the face with a beer can and broke into cars at a concert.
Police were called to State Route 143 at about 8 a.m., to "a party commonly known as Jah Fest," police said. The event had taken place over the course of the preceding evening and into Sunday.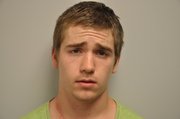 Police arrested Brendan Ryder, 19, of Troy. He allegedly had an altercation with a young woman at the party and struck her in the face with a beer can. He also allegedly broke into several cars of people who were in attendance of the party. He fled into the woods after being confronted by others in attendance, police said.
The Albany County Sheriff's Canine Unit and State Police Aviation Unit assisted in searching for Ryder. Police said Ryder fled through the woods and into a creek to avoid detection. After about three hours, police found Ryder at his mother's home in Oakbrook Manor in Ravena, according to police.
Ryder was charges with two charges of assault in the second degree, felony criminal mischief and multiple counts of petit larceny.
He was arraigned in the Town of Coeymans Curt and remanded to Albany Cunty jail without bail.
Vote on this Story by clicking on the Icon