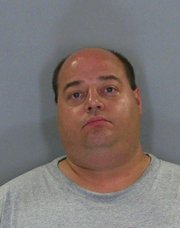 BETHLEHEM — Bethlehem police have arrested a man they say helped a bank robber elude authorities.
Anthony S. Zumbolo, 40, of Amsterdam, was charged with hindering prosecution in the second degree, a felony, on Tuesday, Aug. 27.
Police said Zumbolo provided information to Victor A. Shear that he was being sought by police. Police are searching for Shear, who allegedly robbed the Trustco Bank in Slingerlands on Wednesday, Aug. 21. Police said the information Zumbolo gave to Shear helped him avoid capture on Thursday, Aug. 22.
Zumbolo was arraigned in Bethlehem Town Court and remanded to the Albany County jail without bail. He is due back in court Thursday, Aug. 29, for a preliminary hearing.
Anyone with information on Shear's whereabouts is requested to contact Bethlehem police at 439-9973.
Vote on this Story by clicking on the Icon