COLONIE — Colonie patrolman Louis DiNuzzo knows that one of the most important factors of being on duty is staying in shape.
"Physical fitness could really save someone's life," the Colonie native said.
As a runner for most of his life, including being on the track team at both Shaker High School and his alma mater Colgate University, DiNuzzo likes to squeeze his shoes into any running competition he can.
All his time training, target practicing and generally staying shape paid off this month when DiNuzzo won the gold medal in the men's individual biathlon at the World Police and Fire Games 2013 in Belfast, Northern Ireland, which was held Thursday, Aug. 1, through Saturday, Aug. 10.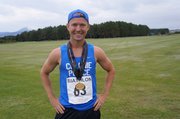 Promoters say the event is the third-largest international multi-sport event in the world, and the biennial tournament features Olympic-styled competitions for serving and retired police, fire, prison and border security officers. What started in 1985 as a national competition branched into the international realm when it ventured into Vancouver in 1989. Since then, the competition has been held in seven countries, including Sweden, Spain and Australia.
This year, Northern Ireland hosted, and housed nearly 15,000 competitors from 67 countries for 56 sports. DiNuzzo was the only officer representing Colonie.
For the biathlon, DiNuzzo had to do a series of events against roughly 70 other competitors: run one mile, stop to pick up a gun and shoot 12 rounds at a target, run another mile, shoot another 12 rounds and run one more mile. Yet DiNuzzo, who had been training for the competition since May, said he came upon an unexpected turn during the course – running on a sandy beach.
"A lot of people, including me, didn't know it was part of the course," DiNuzzo said, adding that he has never run on a beach before. "It was soft sand … but I felt it worked to my advantage being a smaller, lighter guy. I had quicker turnover … it helped me out in my run."
(Continued on Next Page)
Prev Next
Vote on this Story by clicking on the Icon