BETHLEHEM — An upcoming gig at a pub is more than just another show for Brian Mulkerne, because he's coming back to where he started strumming a guitar 45 years ago.
"It is just something I always wanted to do – to come back and get a gig down there," the Delmar native said. "It just means more to me than a regular place to play. We have done over 40 shows this year, but this one means more to me than any of them."
Mulkerne, a 56-year-old Whitesboro resident, is coming back to his hometown on Thursday, Aug. 29, performing with The Brian Mulkerne Band from 8 to 11 p.m. at Swifty's Pub and Restaurant in Bethlehem. The band plays a mixture of blues, folk and country music that includes covers and originals.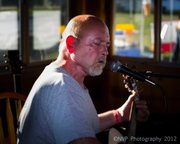 "I have been a musician since my days in Delmar. I started playing guitar when I was 12 years old," Mulkerne said.
Being a musician hasn't been a full-time job for Mulkerne, who has lived in the Utica area for around 35 years. He graduated from Bethlehem Central High School and went to SUNY Cobleskill. Then he went to the SUNY Institute of Technology at Utica/Rome for its human services program, which led him to an internship at the state Office of Mental Health's Mohawk Valley Psychiatric Center. After graduating, he was offered a job at the Utica facility and he worked his way up the ranks to become a psychotherapist and treatment team leader.
He started out as a cleaner for the facility, but he didn't stay in that position too long.
"I worked my way out of that job pretty quickly," he said.
He is planning to retire soon and is looking forward to practicing more, along with doing some private counseling.
About five years ago, Mulkerne started performing solo and eventually connected with George Deveny, who plays slide and lead guitar and sings in the band. Bassist Ken McConnell Jr. and drummer Oscar Crandall rounded out the band. Their performance at Swifty's will be acoustic, so Crandall is sitting it out.
(Continued on Next Page)
Prev Next
Vote on this Story by clicking on the Icon