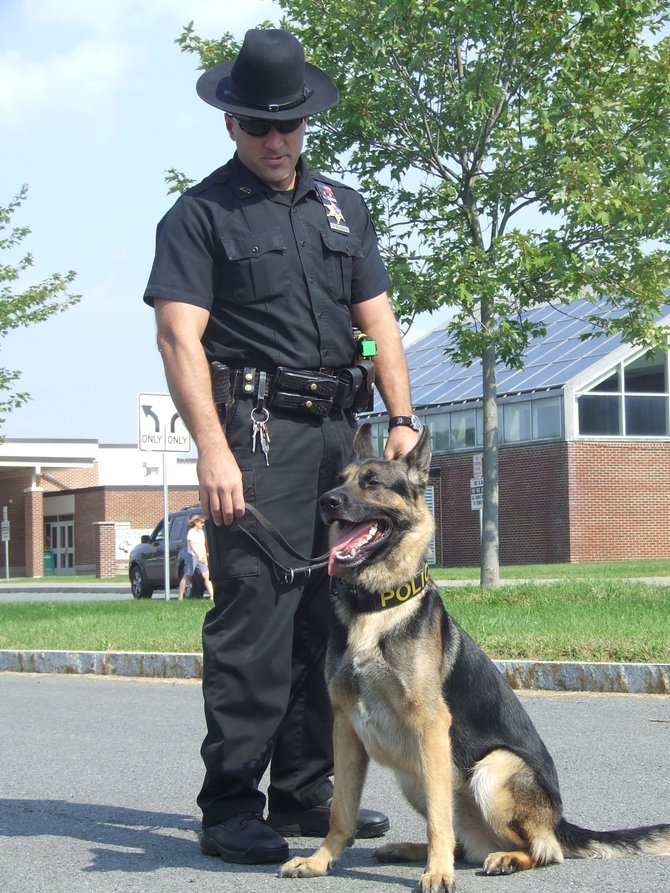 BETHLEHEM — For nearly a year, officer Patrick Strollo has taken his partner George out on the beat with him. They've found emotionally disturbed people, criminals and narcotics together. Yet every day he's in the field, Strollo is a little nervous, because George isn't as well protected as he is.
That's because Strollo is a canine handler with the Albany County Sheriff's Office, and George is a 2-year-old German shepherd, named after former Sheriff George Infante. Under budget restraints, the Albany County Sheriff's Office can't afford to purchase George a ballistic, or bulletproof, vest.
"I'm very careful right now knowing that he's vulnerable if somebody has a gun. I just might leave him in the car. If there was a situation where I couldn't, I would just make sure I was even more alert," Strollo said. "Anybody that's unprotected, whether it's human or an animal, shouldn't be victimized."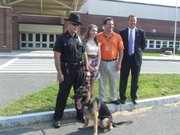 Knowing the department has a tight budget, Bethlehem High School senior Rachel Piccolino decided to take her canine adoration to the next level by raising money through local animal shelters and hospitals to purchase a $1,200 ballistic vest for George. After collecting about $200, she's now asking the community to help pitch in whatever they can to not only help buy George a vest, but vests for two other dogs soon to be a part of the county's K-9 Unit.
"I've always been a dog lover. I have a black lab at home. I think it's so important to protect these dogs," Piccolino said. "They're heroes."
Piccolino decided to start up her own fundraising website through giveforward.com and is asking for donations. She said her original goal started with buying only one vest for George, but she hopes to raise $3,000 to buy all three vests.
As of press time, the public had donated nearly $2,800.
(Continued on Next Page)
Prev Next
Vote on this Story by clicking on the Icon