BETHLEHEM — For children, shopping for school supplies is the event that signals the end of summer vacation. But as school supply lists grow longer with each passing year, so have the number of Bethlehem families who need assistance providing those items for their children.
For about 15 years, Bethlehem Senior Projects has partnered with the town's Senior Services Department to provide school supplies for children in need. When the program began, about a dozen families needed help. Now, there are about 60 families seeking assistance.
"There might be more that need help, but we just don't know of them," said Senior Services Outreach Coordinator Jane Sanders. Most of the families are those who have made use of the Bethlehem Senior Services Food Pantry.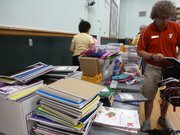 On Wednesday, Aug. 21, volunteers from both the Senior Services Department and the Bethlehem YMCA worked to stuff backpacks with supplies for those who were registered with either of the two groups. Bethlehem Senior Projects donated $1,500 towards this year's initiative, while the town and YMCA have accepted donations from the community for the last month.
Sanders said there is a combination of factors contributing to the dramatic increase in families needing assistance, such as the recession and the growing cost of school supplies. Schools are also asking parents to provide more supplies these days.
Suggested supplies range from pencils, folders and looseleaf paper to backpacks, thumb drives and combination locks.
Participating families were asked to provide either Senior Services or the YMCA with their child's school supply list. Depending on age and gender, volunteers stuffed backpacks with all the supplies needed. In all, 102 children received school supplies through this year's drive.
This was the first year the Bethlehem YMCA partnered to help raise supplies for the drive. Derek Martin, district executive director with the Capital Region YMCA, said one of the organization's newest goals is to work more closely with the towns it's located in. Since similar collections take place in both Clifton Park and Guilderland, officials at the Bethlehem location felt it should get involved as well.
(Continued on Next Page)
Prev Next
Vote on this Story by clicking on the Icon