COLONIE — Two candidates are gearing up their campaigns for the Albany County Legislature's 14th District.
The seat, which the winner will hold for a four-year term, represents a district that encompasses the entire Village of Menands, parts of the City of Watervliet and a part of Colonie. The position became vacant in February when Democrat Phil Steck moved from the legislature to the Assembly in January. Democrat Alison McLean Lane was appointed to fill the vacancy, and is now running for the full term against Republican Mark Lansing.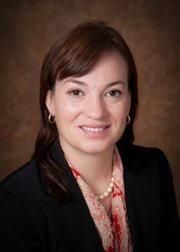 Both have announced their candidacies and are starting their campaigns by going door-to-door in the district.
McLean Lane, who grew up in Albany and Loudonville, attended the Albany Academy for Girls and headed to Massachusetts to attend Boston College. She stayed in the Boston area working for the Lyons Group, a conglomerate for bars, nightclubs and restaurants, and later moved to New York City for graduate school at the Fashion Institute of Technology.
McLean Lane moved back to the Town of Colone in 2006, where she started working as the confidential secretary to Supervisor Paula Mahan. Now she lives in Menands with her husband Tim Lane, who also serves on the Colonie Planning Board, and her two children.
After sitting on the legislature the past six months, McLean Lane said it was more than she initially expected, but she is eager to continue working with the other 38 legislators.
"There are a lot of people I've been able to help and it makes me incredibly happy. There are so many human services … I have people that call people with heartbreaking stories who really need help. To know I helped them achieve their goals is a great feeling," McLean Lane said.
McLean Lane said she plans to focus on consolidating services at the county and local levels, as well as trying to bring in more revenue sources to ease taxpayer burden. When working for the Town of Colonie, McLean Lane said she initiated a program to have corporate sponsors for the town's annual Harvest Fest as well as managed The Crossings of Colonie Farmers Market.
(Continued on Next Page)
Prev Next
Vote on this Story by clicking on the Icon