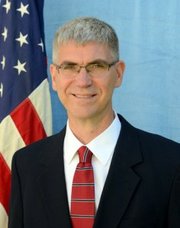 continued — "When you look at the demographics, we are an increasingly aging demographic, particularly in Upstate New York. If you want to maintain an economic stability with an aging population, you have to have a developing younger tax base," Lansing said.
Lansing, a partner at Hiscock & Barclay, said he thinks Albany County needs to become more aggressive in making economic development a primary focus. Lansing said he also wants to see movement on the Albany County Convention Center.
Lansing also stressed the "need for better and greater integration of the local colleges." He said there should be better leverage between the nanotechnology of the College of Nanotechnology, the biotechnology and light studies at RPI and other science programs.
Working with the Village of Menands for the past seven years, Lansing said officials there were able to work together, regardless of party affiliation, and listen to what the constituency wanted.
"What I've observed on some issues, at least through the county, is that we're not finding resolutions to issues. We need to return back to putting the voter, the constituency, first, and listening to them," Lansing said.
Unlike McLean Lane, Lansing said he agrees with McCoy's plan to privatize the nursing home.
"I understand it costs the county about $1.6 million a month and in other deficits. If you are not able to economically operate the facility you should put it in the hands of someone who can economically handle the facility," Lansing said. "It seems to me the best way is to make a clean break … stop the bleeding."
As he continues to go door-to-door, Lansing said he has raised about $2,000 for his campaign. He also uses Facebook, concentrated mailings and www.friendsofmarklansing.org to get out his message.
Lansing said he strives to create better opportunities for families and to keep the "American Dream in place, or not sacrificed for our children or grandchildren."
"In particular in Albany County, if you look historically, it used to be the hub of the Capital District region … it can become an economic engine again so we can provide for our children the opportunity to pursue professional expectations," Lansing said. "That's our main goal."
The other objective, Lansing said, is to "move away from voting blocks," and resolve issues that are in the best interest of the taxpayers.
"Put them first again so their property taxes are lower, tax base increased, budget is reflective of inflation instead of exceeding property tax caps," Lansing said.
Vote on this Story by clicking on the Icon