continued — The Crossgates location is also around 10,000 square feet larger than most of the company's restaurants. Albany makes the 64th location for the national chain. Photographs of local landmarks, such as The Egg, are featured as part of the decor, along with the names of area sports teams.
"That is the cool thing about Dave & Buster's; it is always localized," Special Events Manager Kaitlyn Malloy said. "It is not that cookie-cutter. You go into every one and it is different."
One game located outside of the midway and near the sports bar is the "Watch, Spin and Win" wheel. When an area team scores, an employee will select a patron to come spin it. The winnings can be handed out to the individual spinning, their table, or the "entire area."
"This is one of our new, sports watching features," Regional Marketing and Tourism Manager Benjamin Maddy said.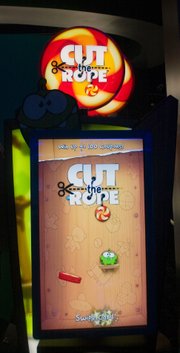 The "Million Dollar Midway" actually constitutes more of an investment than the name suggests, according to Maddy. The variety of games available in the midway ranges from the classic Skeeball to the latest video game technology. Many games offer tickets, but a majority are just for fun.
"About 60 percent of the games people play are the redemption games where they win the tickets and they get the prizes to take in the winners circle in the corner," Johnson said. "They can win anything from a PlayStation 3 to an iPad to a six-foot tall, stuffed banana."
Games like "Dark Escape 4D" utilize not only 3D glasses, but blow air onto the player's neck and monitors the user's pulse.
"As the zombies are hording and jumping out at you it show your pulse jumping," Malloy said. "The more frightened you get the scarier the game gets, so it is a very interactive game."
Vote on this Story by clicking on the Icon