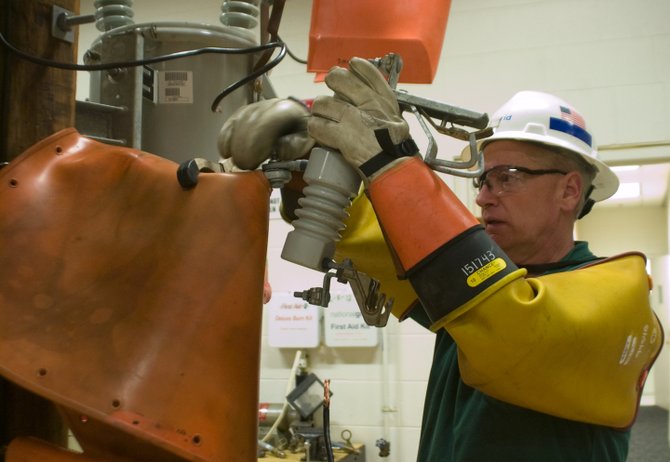 continued — "I have seen it where a tree limb will lay across all three wires, and nothing will happen," Pommer said. "The insulation will protect the circuit from going out, and they have been very proactive in doing that a lot, too."
Pommer said it is a lot tougher to "skin" the wire during work, but there are new tools used to ease the process. The wire is heavier though, so during an ice storm there is more weight on the wire. Construction design can help offset the added weight, he said.
National Grid started to upgrade its electric infrastructure in 2006, and plans to complete the effort in 2016. The company has committed more than $3 billion to perform the upgrades across upstate New York.
"Our first concern is the safety of the public and our employees," Kenneth Daly, president of New York state for National Grid, said in a statement. "Then, our goal is restore electricity and gas service as quickly as possible."
National Grid begins planning their response days before a forecasted severe weather event, which includes planning for additional outside crews, preparing to implement the Incident Command System to coordinate preparation and restoration, and consistently monitoring a storm determine where to position resources for response efforts.
The company also reaches out to area emergency management officials to discuss storm preparation and service restoration plans.
Customers have several ways to learn about service issues or interruptions during storms. National Grid provides real time information on its Outage Central map on its website, which can viewed at www1.nationalgridus.com/OutageCentral. For those with smartphones, there is also an app available for Apple and Android devices.
By text messaging the word "STORM" to 64743 (NGRID), customers can also sign up to receive text message alerts and updates. Email alerts are also available to customers who create an online profile on the company's website.
Vote on this Story by clicking on the Icon