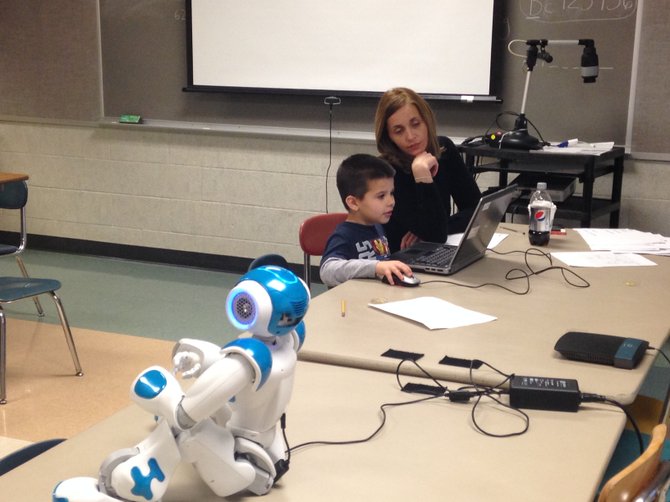 BETHLEHEM — Peter Rawitsch bought his first robot more than 25 years ago from Toys 'R' Us.
The Glenmont Elementary School teacher made the purchase in an effort to introduce technology to his first-grade students. Nearly 30 years later, the technology has improved, but the heart of the lesson has remained the same.
"This is their future, so it's always better to start them early," said Rawitsch.
One of Rawitsch's first robots was a Terrapin Turtle, which plugged into an early Apple computer. Rawitsch said the mechanism looked like a motor on wheels with a large bowl on top. Using the sensors installed in the robot, students were able to control where the "turtle" moved.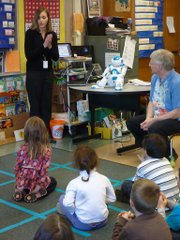 The Glenmont teacher's current first-graders are getting a much different experience with the introduction of Ricky the Robot, who looks more like a person and has more functionality.
Rawitsch said he was introduced to Ricky at the third annual Tech4Teaching Academy held over the summer at Bethlehem Central High School. Ricky is a "humanoid robot" operated by the Capital Region BOCES' Northeastern Regional Information Center.
"As soon as I saw Ricky I fell in love, and I knew this was something first-graders would fall in love with," said Rawitsch.
Ricky is mainly operated by Hilary Dee of NARIC. The pair travel to schools throughout the Capital District and help students of all grade levels learn about programming. Older students learn how to code Ricky's functions themselves using the Python Programming Language. Younger children, like those in Rawitsch's classroom, learn a more simplified version.
Ricky visits Glenmont Elementary once a month. In November, each student in Rawitsch's class programmed Ricky with a riddle and clues that the other students were asked to guess the answer to.
Students worked with Dee in a separate room throughout the day. Every boy and girl was given a different riddle, and Dee then helped the children program Ricky with the answer and three clues. To give each clue, the children pressed a different part of Ricky's head. Answers were given by pressing Ricky's feet.
(Continued on Next Page)
Prev Next
Vote on this Story by clicking on the Icon