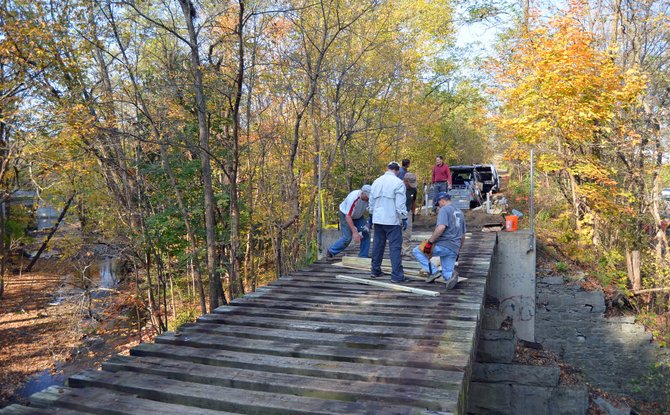 VOORHEESVILLE — Friends of the Rail Trail will celebrate the official opening of a new three-mile section running through New Scotland as efforts continue toward expanding the trail's size and usage.
There will be a ribbon cutting at 1 p.m. on Saturday, Dec. 7, at the beginning of the new section of Helderberg Hudson Rail Trail in Voorheesville, near the intersection of Voorheesville Avenue and Grove Street. The new 3-mile section of the trail extends from that intersection to Upper Font Grove Road. After the ribbon cutting, there will be a holiday party at the American Legion located at 31 Voorheesville Ave., with anyone welcome to attend.
"We have been working on it for quite some time, and just this fall, two bridges were made suitable for pedestrian use," said Mark King, director of the Mohawk Hudson Land Conservancy. "It is a social gathering for folks to talk about what has happened, celebrate the successes and the future of the whole project."
Volunteers recently finished improvements to the Vly Creek bridge in Voorheesville, including constructing railings and a new deck to safely span railroad ties. More complex improvements were also finished on the village bridge over Route 155, including installing fencing on each side for pedestrian and vehicle safety. Additional trail cleaning and mowing was done before opening the new portion.
The new three-mile portion is limited to pedestrian usage because of the existing trail surface quality and some unprotected, steep sections. King said bicyclists should not worry about being overlooked.
"This is an initial step to get folks exposed to what is out there and the opportunity that lies ahead to make this into a real first-class bike path," King said. "It has really been a great supportive effort in the Bethlehem section, and I think people appreciate it and they want more — to make it a real bike trail."
(Continued on Next Page)
Prev Next
Vote on this Story by clicking on the Icon