continued — David Golub, senior vice president of administration for Price Chopper Supermarkets, said he hoped the law could be revised to balance the interests of consumers, county officials, businesses and the environment.
"We need to all sit down at the table and really craft some legislation that allows everybody to accomplish this," Golub said.
Nick Vaugh, spokesman for the Albany-Colonie Regional Chamber of Commerce, urged McCoy to veto the law and instead focus on a recycling initiative to "create a level playing field" for all businesses.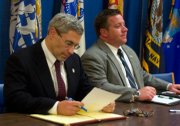 "The idea of piecemeal legislation only further burdens local businesses and is not sustainable," Vaugh said.
Most chain food establishments are also locally owned, Vaugh said. The law would apply to businesses with more than 15 locations nationally.
County Legislator Christopher Higgins, D-Albany, said he was surprised to see grocery store representatives speaking out against the proposed law because he claimed it would not apply to such businesses.
"I was very curious why they were here," Higgins said. "We've worked with the Food Industry Alliance on this; they supported this local law, and ShopRite and other grocery stores (are) exempt from it under (state law)."
Jessica Semon, of Albany, said companies must transition to more sustainability and environmentally friendly practices.
"The public shouldn't have to take all the burden on for this," Semon said. "Companies need to be responsible for public health and the environment, just as everyone else does. We do have packaging that was available before."
Anna Brewer, a 17-year-old from Cohoes, argued jobs would be created as businesses shift to alternative packaging. She also noted small businesses would not be affected by the law.
"We are going to be using more of the alternative. Someone is going to need to make it, so we are going to need jobs for that," Brewer said.
Vote on this Story by clicking on the Icon