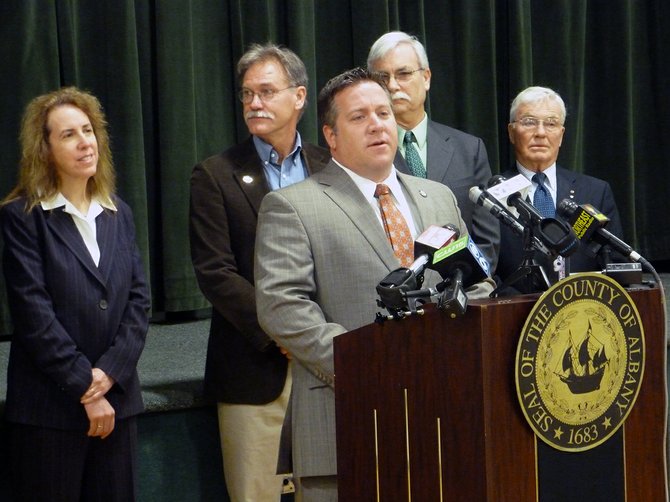 BETHLEHEM — Styrofoam containers are now banned from nationwide food establishments under Albany County's newly adopted law, but it could soon be absent from all local eateries.
Albany County Executive Dan McCoy signed the Food Service Waste Reduction Act into law Thursday, Dec. 12, at Bethlehem Town Hall flanked by local officials. The law bans polystyrene foam food containers, commonly known as Styrofoam, from being used in chain food establishments. The law also requires such businesses using disposable food service ware to use a "suitable, alternative product" that is compostable or biodegradable.
"The Styrofoam ban is only one small step in making Albany County the greenest county in all of New York state," McCoy said.
The local law will be effective in six months and includes escalating penalties for each offense. Penalties start at a maximum fine of $250 for the first offense and increase to a $1,000 maximum fine for the third and any following offenses.
Only food establishments with at least 15 locations nationwide would be affected by the ban, but McCoy is looking to expand the law to all food businesses within three years.
Representatives from several leading supermarket chains previously contested the law over concerns of its possible effect on prepared and packaged food, but McCoy confirmed grocers would not be affected.
"They are exempt because they fall under state law and county law cannot supercede state law," he said.
McCoy contested the law "doesn't go far enough" and the county needs to take "big, bold steps to truly" have a positive impact on the environment. He then announced three environmental initiatives the county will pursue.
"Styrofoam may be the problem in our landfill, but it is the landfill itself that is the true problem," McCoy said. "With the ban on Styrofoam, we will be able to save space, but the clock continues to tick."
(Continued on Next Page)
Prev Next
Vote on this Story by clicking on the Icon