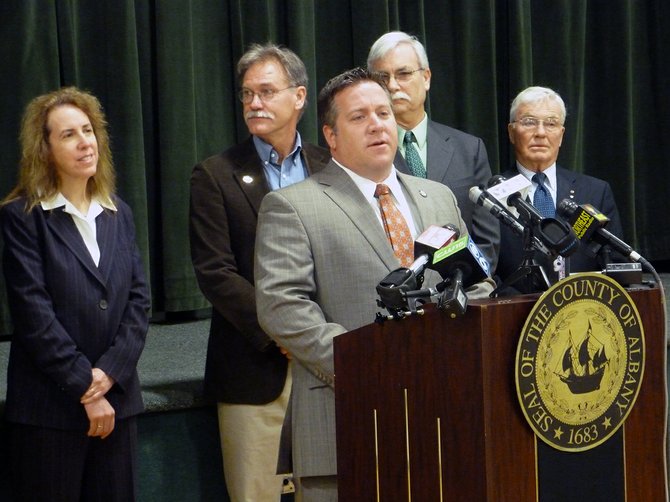 continued — To tackle landfill issues, McCoy announced he would appoint a commission to find "viable options for long-term environmental, sound, economically beneficial discarding of waste." This will include revitalizing the regional solid waste study as the landfill is estimated to reach capacity in less than a decade.
McCoy's second initiative addresses obtaining additional open space, preserving historic buildings and maintain agricultural opportunities.
He set the goal of securing another 3,500 acres in the county, which he said spans 562 square-miles of land. McCoy's administration has acquired 372 acres for conservation, environmental needs or agriculture.
"This means that we can keep our community scenic, healthy and green," McCoy said. "We will continue to preserve the environment to benefit our county, including restoring the four and a half mile Rail Trail … in multiple municipalities."
McCoy's also plans to establish a county public service agency, run by an appointed 7 to 11 member board to develop a plan for recycling countywide.
Laura Haight, senior environmental associate of New York Public Interest Research Group, commended county legislators and McCoy for passing the law.
"This terrific Styrofoam ban is a great holiday present for all of us at the end of the year," Haight said, "and with it Albany County is showing real leadership in demonstrating environmental sustainability."
Travis Proulx, spokesman for Environmental Advocates of New York, said there is "no upside" to using foam containers for food.
"Many large corporations impacted by this measure have proactively identified environmentally responsible alternatives because they know this product isn't good for their consumers," Proulx said in a statement. "It is not reusable or recyclable, litters our sidewalks, leaches toxins into our food, and will outlive each of us by 500 years."
Industry representatives previously said polystyrene containers can be recycled, but some lawmakers and residents claimed it's not a viable option since there is no profit to be made for recycling companies.
Vote on this Story by clicking on the Icon