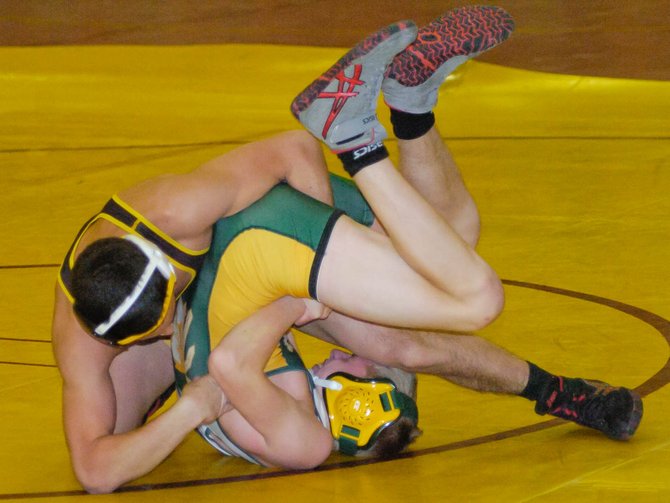 COLONIE — Saturday night's snowstorm turned out to be a minor bump in the road at Colonie's annual Linda Stuart Memorial Duals Tournament.
Four of the 10 schools that wrestled in Saturday's first round couldn't return for Sunday's action due to the storm that dumped nearly one foot of snow on Colonie. But Colonie coach Jeremy Eggleston said he was pleased just to get the tournament in.
"I didn't know if we could finish the tournament, but the administration did a great job of getting the facilities ready (following the storm)," said Eggleston.
The Garnet Raiders fared well in the two-day tournament, as they finished third overall with a 6-2 record.
"There was a lot of parity," said Eggleston. "Everybody was pretty tough, which I thought was great."
Colonie's two losses came against a pair of upper-tier wrestling programs, Burnt Hills-Ballston Lake and Minisink Valley. And in its 36-29 loss to BH-BL, Colonie had a chance to win the match on the final bout.
"It was a barn burner that could have gone either way," said Eggleston. "The difference was they won all the close matches."
Golan Cohen (120 pounds), Wayne Burt (195) and Austin Dicerbo (285) all went undefeated for the Garnet Raiders. Cohen and Dicerbo each picked up most outstanding wrestler honors for their divisions.
"It was great for those kids to get those awards," said Eggleston.
The eye-opening performance of the weekend belonged to heavyweight John Mullally, though. Mullally rallied from an early deficit to defeat BH-BL's Nico Fragale 6-5 in their 220-pound division bout Saturday.
"That was a big win for John," said Eggleston. "Nico placed second in the section last year, so I think it will boost (Mullally's) confidence and make him realize he can beat anybody."
Colonie has one Suburban Council dual match before the Christmas break -- a Wednesday meeting against South Division rival Bethlehem. The Garnet Raiders travel to two tournaments during vacation week, beginning with the Windsor Christmas Tournament Dec. 27 and 28 outside of Binghamton.
Vote on this Story by clicking on the Icon