VOORHEESVILLE — Voorheesville school officials are hoping a scaled-back capital project targeting what it has deemed to be essential improvements will be approved by voters.
District voters will head to the polls today from 2 to 9 p.m. at Voorheesville Middle School to cast their ballots on a proposed $2.7 million bond project. A majority of the project cost is tied to reconstruction of the high school's built-up roof for $2.345 million. Reconstructing walls above the roof also accounts for $78,000 worth of work. Replacing network switches and adding 60 drops of wireless access totals a cost of $279,500.
Document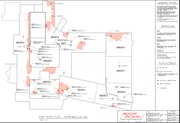 The Board of Education held a public hearing on the proposal at its Monday, Dec. 9, meeting, which included an overview of the project and its costs. There were few comments from the public on the project, with some questions over financing and the timing of the expenditure.
"It's no secret that the roof on the building has been in trouble for a considerable period of time," Board of Education Trustee James Coffin said. "We have been watching it and there have been some minor fixes over time, but it has continued to get worse. We see that we have to address this issue."
The approximately 82,000 square feet of the high school's built-up roofing system was constructed during 1958 and 1968. The roof was last resurfaced 18 years ago. The reconstructed roof will be an ethylene propylene diene monomer (EPDM) rubber roofing system, which holds a 30-year warranty.
Roof reconstruction will also address leaks and areas of wet insulation, with the new roof estimated to save around $1,500 annually in natural gas costs based on 2012-13 energy rates, according to the district.
The high school gymnasium's high wall above the roof is displaying white chalking on brick surfaces, cracking and possible water damage due to age. District officials said failing to make improvements could lead to more serious infrastructure damage.
(Continued on Next Page)
Prev Next
Vote on this Story by clicking on the Icon