BETHLEHEM — For more than 30 years, the Bethlehem Police Department has been using land provided by Callanan Industries to train their officers in shooting their weapons.
Last week, Callanan Industries donated the land off Old Quarry Road to the Town of Bethlehem with the intent it be used as a shooting range for Bethlehem police. A small ceremony took place on Friday, Dec. 13, after the donation was accepted at the previous town board meeting.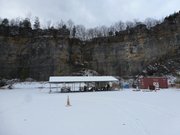 "We've become very fond of that facility because of its proximity to Town Hall," said Bethlehem Police Chief Louis Corsi. "It saves us a lot of money in logistics by moving people back and forth from the facility, so in the long run it's going to be really good for the Town of Bethlehem."
Since the location has been used for so many years, much of the department's equipment is already on site. Come spring, Corsi said he would like to see the space cleaned up and possibly purchase some new equipment.
Since the town now owns the land, the Bethlehem Police Department can apply for state and federal grants to help upgrade the space.
Corsi said Bethlehem is now one of only two municipalities within Albany County to have their own shooting range. Other agencies such as officers from the Albany County Sheriff's Office, the State Police, the Albany division of the Federal Bureau of Investigation and Secret Service sometimes use the facility for shooting practice.

Andy Stokes, a retired employee of Callanan Industries, said getting the land donated had been a pet-project of his for years. Stokes was invited to the donation event and took the lead on behalf of Callanan Industries.
"Since the company's founder, Peter Callanan, first began the stone quarry on his South Bethlehem farm and was awarded the state's first road-building contract, we have been members of the Town of Bethlehem and members of the Bethlehem community," Stokes said. "We are proud to keep Bethlehem strong and growing, and a safe place to live and work.
(Continued on Next Page)
Prev Next
Vote on this Story by clicking on the Icon