GUILDERLAND — A small expansion at Crossgates Mall is planned to make way for two new restaurants and two entertainment attractions, but Guilderland planning board members were concerned about the lack of information provided at a recent meeting.
The Town Planning Board on Wednesday, Dec. 11, unanimously approved a preliminary site plan to construct a two-story, 20,860-square-foot addition at Crossgates, which would expand the mall's space to lease by 2,100 square feet. Several conditions were attached to the approval, which generally included providing a more detailed site plan before the Zoning Board of Appeals reviews the project.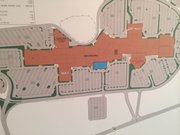 Robert Sweeney, the lawyer representing Crossgates, declined to disclose any potential businesses outside of being two restaurants on the first floor and two "entertainment venues" on the second floor. He also would not disclose if any agreements have been reached for any of the proposed spaces.
There was little time for board members to review the proposal, with it placed on the agenda just the day before the meeting.
"I think the board has seen this sketch plan for about five minutes now," Planning Board Chairman Stephen Feeney said. "I have had no time to look at this at all."
Sweeney said he submitted information to the town and was placed on the agenda, but he did not indicate if the developer pushed for an expedient process.
Board members also commented on the lack of information included in the plan presented, with even the number of parking spaces before and after not readily available.
"It is unclear what's being proposed is actually what's going to happen," Feeney said. "We are looking at such a sketch plan it is hard to say what is really happening."
Sweeney said the plan presented was intended to be the site plan and not a more preliminary sketch plan.
(Continued on Next Page)
Prev Next
Vote on this Story by clicking on the Icon