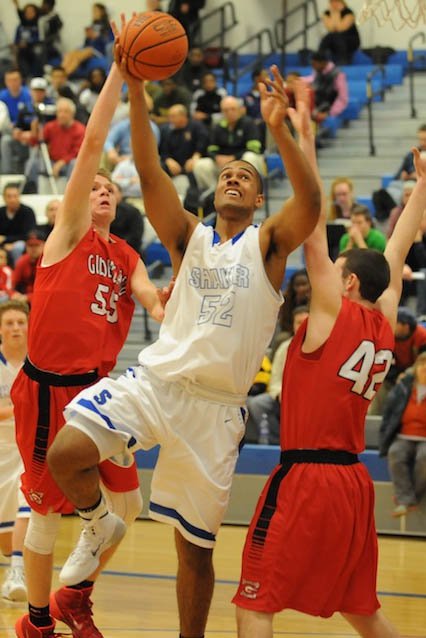 LATHAM — What was supposed to be a showdown of two Suburban Council powerhouses turned into a one-sided affair.
Four Guilderland players reached double figures in a 67-50 boys basketball victory over Shaker Thursday in Latham.
The final outcome took everybody by surprise.
"Absolutely, I did," said Guilderland coach Ron Osinski upon being asked if he thought it was going to be a close game. "They're very good and well coached. The Dare kid (Malik Dare) is a handful. I didn't have anybody who I could match up with his size. What we did was I think our team did a good job of working together defensively to hold him down."
"We had been shooting the ball well," said Shaker coach Jeff Holmes. "We had been shooting nearly 57 percent from the field as a team."
It wasn't so much what Guilderland (4-0 league, 5-0 overall) did defensively to stop Shaker (3-1, 3-1) as it was the Blue Bison's own misfortune at the offensive end. Shaker created good scoring opportunities with solid passing, but shots that had dropped for the Blue Bison in their first three games rimmed out time and again. Dare, alone, had several inside shots bounce out on him.
"We missed all of those shots in the lane ... and free throws," said Holmes. "Andrew (Holmes) missed several free throws. That doesn't happen."
Meanwhile, Guilderland's balanced attack was too much for Shaker to handle. Whether it was Vincent Simeone, Andrew Platek, Matt Cerutti, Billy Floyd or Marc DuMoulin, there was always someone with a hot hand on the floor for the Dutchmen.
"I don't think there was any one player all game long that did it for us," said Osinski. "It was different players stepping up and hitting shots at different times."
Guilderland started the game on a 12-1 run with all five starters contributing at least one point. Dare made a layup off a Guilderland turnover, and Andrew Holmes added two free throws to trim the Dutchmen's lead to 12-5 entering the second quarter.
(Continued on Next Page)
Prev Next
Vote on this Story by clicking on the Icon