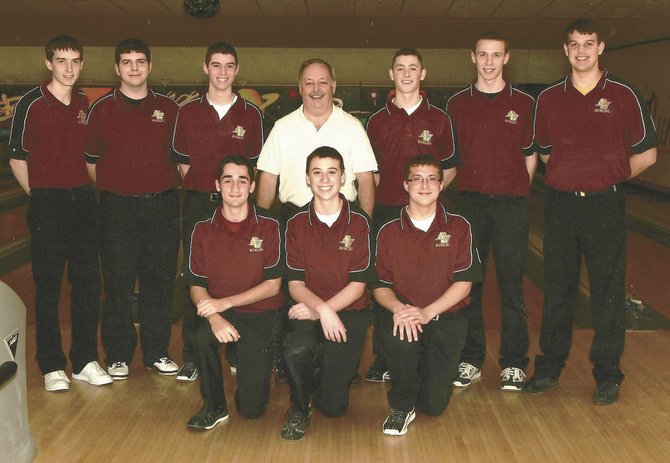 Loudonville Christian School got to the Class D finals, where it ran into Joey Lufkin and the Argyle Scots. Lufkin poured in 26 points and added six assists to lead Argyle to a 63-49 win over the Eagles. Matt Yamin (13 points) and Gabe Brown (12 points, 14 rebounds) led Loudonville Christian.
• For the first time in three years, a girls basketball team from the Town of Colonie failed to reach the Class AA Sectional finals. Defending champion Colonie lost to Bethlehem 44-40 in one semifinal, while Albany knocked off Shaker 47-41 in the other semifinal.
The loss to Bethlehem ended Sydnie Rosales' highly successful career. Rosales helped Colonie reach two Sectional finals and win the 2012 Class AA title. The Marist-bound senior guard scored 15 points, pulled down seven rebounds and added three steals in the semifinal loss to the Lady Eagles.
Shaker guard Madison Rowland also had her fine high school career end in the semifinals. Like Rosales, Rowland earned a Sectional title as she and older sister McKenzie Rowland guided Shaker to the 2011 Sectional title. Rowland scored 25 points for the Blue Bison against Albany, which went on to defeat Bethlehem in the Class AA finals.
• Colonie's Golan Cohen finished fourth in the Division 1 (large schools) 106-pound weight class at the state wrestling championships in Albany. Cohen got as far as the semifinals before losing to Westhampton Beach's Alex Tanzman 4-1. Shaker's Blake Retell made the quarterfinals in the 120-pound weight class before losing and finished with a 2-2 record in his third trip to states. Colonie's Jason Johnson was 1-2 in the 220-pound division.
• The Shaker/Colonie hockey team came close to reaching the Division I finals, but Shenendehowa rallied for a 6-5 overtime victory in the semifinals.
The Jets took a 5-4 lead on Kevin Egan's goal with 5:01 left in the third period, but Peter Russo tied the score for Shen with 2:25 remaining in regulation to force overtime. Kyle Marr scored with 6:07 left in overtime to send the Plainsmen into the finals, where they lost to eventual state champion Saratoga Springs.
Vote on this Story by clicking on the Icon