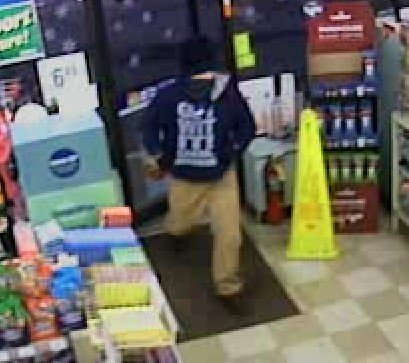 The Colonie Police Department is asking the public for help with any information they have about an armed robbery at a Cumberland Farms at 1093 Loudon Road from Sunday, Dec. 8. The police are directing people's attention to the logo on the suspect's sweatshirt that states, "Out Wit It!"
The police are also still looking for information regarding the Thursday, Dec. 19, armed robbery at the Citgo Gas Station at 60 Fuller Road. There is no footage available of this robbery, but the description is similar to the Cumberland Farms suspect and could possibly be related.
The suspect is described as a white male, 5'9-5'10," wearing a blue hooded sweatshirt, tan or khaki pants, grey wool knit hat and grey fleece material covering a portion of his face
Anyone with information about either robbery is urged to contact the Colonie Police Department at 783-2744. Further media inquiries can be directed to Lieutenant Robert Winn at 783-2754.
Vote on this Story by clicking on the Icon