Winter
• Gunnar Zemering became the second state swimming champion in Bethlehem history when he won the 50-yard freestyle title at the March 2 meet in suburban Rochester, and he did it from the far outside lane.
Zemering barely qualified for the finals, which placed him in Lane 8. As it turned out, that was all he needed as he out-touched Alexander's Robert Brown at the wall to win the state title with a time of 21.10 seconds.
Photo Gallery
Bethlehem-Guilderland Sports Year In Review Part 1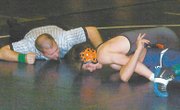 Highlights from the first half of the 2013 sports season
"I never thought I would be a state champion," said Zemering, who joined Ken Neff on the short list of Bethlehem swimmers to reach the top of the podium. "I thought I'd be high up there, but never on top. My whole swimming career, I have been trying to make states. Winning is a huge, unexpected bonus."
• The Bethlehem girls basketball team failed in its quest to win the Section II Class AA title for the third time in this millennium, but the Lady Eagles made history when they played in the first girls final at the Times Union Center. Emia Willingham-Hurst scored 15 points, pulled down 13 rebounds and added five steals in Albany's 64-47 victory over Bethlehem. Jenna Giacone had 14 points, and Gabby Giacone added 13 points for the Lady Eagles.
• Ravena-Coeymans-Selkirk lost to Colonial Council rival Watervliet 43-35 in the Section II Class B girls basketball championship game. It was head coach Bruce Stott's swan song, as he retired from guiding the Lady Indians.
"I know they were trying very hard – not just for them, but for me as well," said Stott. "And I tried very hard to help them reach this goal."
Ailayia Demand had 16 points for Watervliet, which won its sixth Sectional title in the last seven years. Olivia Vosburgh had 12 points for Ravena.
(Continued on Next Page)
Prev Next
Vote on this Story by clicking on the Icon